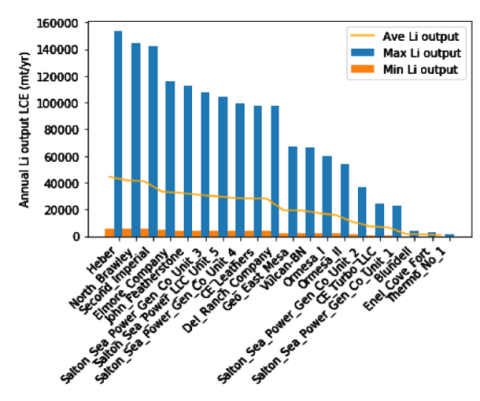 CMI researchers at Oak Ridge National Laboratory and Idaho National Laboratory conducted the research for this highlight
Achievement
A Systems Dynamic model was developed for predicting lithium supply from geothermal sources in a global market.
Significance and impact
As the demand for electric vehicles (EVs) increases, demand for  Li for batteries is expected to grow over the coming decade. The model provides a tool for predicting lithium supply dynamically as demand changes. CAPEX and OPEX are estimated, and prospects for profitable recovery are good.
Details and findings 
No lithium is currently recovered from geothermal brine.
Li supply share from geothermal could reach 60,000 tonnes of lithium carbonate equivalent (LCE) by 2030.
Maximum theoretical annual supply of 1.3M LCE from geothermal plants could meet global demand in 2030.
Potential profit could reach up to $258M and $311M given projections of 23 and 43 million EVs by 2030, respectively.