CMI is a public/private partnership that brings together the best and brightest research minds from universities, national laboratories and the private sector to find innovative technology solutions that will help avoid a supply shortage that would threaten our clean energy industry as well as our security interests.
CMI Team Members:
Industry: All American Lithium, American Manganese, Arnold Magnetic Technologies, Big Blue Technologies, BorgWarner, Eck, EEC, Emrgy, First Cobalt, First Solar, Garrison Metals, Lixivia, Irish Metals, Marshallton Research Laboratories, Mercury Marine, Momentum Technologies, OLI Systems, Powdermet, Retriev Technologies, Rio Tinto, Seegence, Shiloh Industries, Solvay, Spiers New Technologies, TdVib, Telex Metals, Terves and US Borax 
Universities: Arizona State University, Case Western Reserve University, Colorado School of Mines, FIPR Institute, Idaho State University, Iowa State University, Missouri S&T, Pennsylvania State University, Purdue University, Rutgers, University of Arizona, University of California-Davis, University of Tennessee-Knoxville, Wayne State University and Worcester Polytechnic University
National Laboratories: Ames Laboratory, Idaho National Laboratory, Lawrence Livermore National Laboratory and Oak Ridge National Laboratory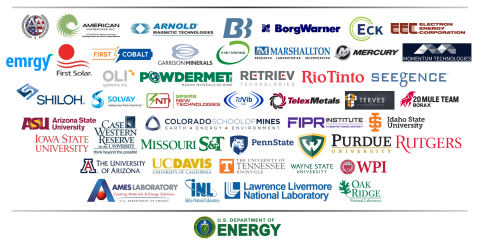 CMI Team Members have research subcontracts from CMI or are providing cost sharing funds. Requirements include specific research project deliverables within the entity's areas of expertise, based on a scope of work and a negotiated budget, including cost-share as applicable, as approved by the CMI Director. This level of participation is required to sign CMI's Master Non-disclosure Agreement and the Intellectual Property Management Plan (IPMP).
For more information: