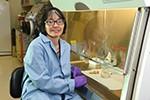 Growing up, Yoshiko Fujita did did not always imagine herself working as a scientist or engineer. Today she is a scientist at Idaho National Laboratory, leads the CMI project "Biogeochemical Impacts of Wastes from Critical Materials Recovery," and is on the CMI Leadership Team as Deputy of Crosscutting Research. A recent bio by Idaho National Laboratory described how she graduated from Williams College without, to her physicist father's amazement, having taken a single college-level physics class.
Thinking she wanted to go into law or a political science field, she went to Washington, D.C., to work for an environmental consulting firm that was helping the Environmental Protection Agency (EPA) write regulations for hazardous waste. It was during her time in DC that Fujita realized she wanted to study environmental engineering. "It seemed sort of novel to me at first," Fujita explained. "I didn't know that many engineers. But while I was helping the EPA, I realized there was so much left for me to learn about the work I was doing, and I had a friend going into environmental engineering, which inspired me to pursue that area of study for my masters' degree."
For her work, Fujita was honored in April 2019 with a Laboratory Director Award. She also is an active member of the INL community, including participating in workshops and as a tour guide for the My Amazing Future initiative and serves as a regular mentor to summer interns. In her spare time, Fujita enjoys hiking, skiing, riding her bike, playing outdoors in the mountains, and eating and cooking good food. Athletic as well as academic, she often plays Ultimate Frisbee at Freeman Park with other INL employees; Fujita also enjoys soccer. Read the full story on the Idaho National Laboratory website.
Yoshiko Fujita and Paul Kim presented a CMI Webinar on "Capabilities of Thermodynamic Analysis and Evaluation of Environmental Impacts."