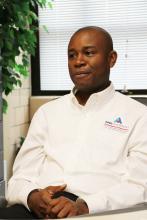 Ikenna Nlebedim is deputy for the CMI focus area Developing Substitutes, beginning May 2020. His CMI research focuses on magnets, both in creating new ones in this focus area and in creating new ways to reuse magnets in the CMI focus area Driving Reuse and Recycling.
His research laboratory can produce magnets in specialized equipment, described in this Ames Laboratory news story. The acid-free dissolution process he developed won a TechConnect Innovation Award in 2019 and two R&D 100 Awards in 2018. 
His research led to a new method for recycling rare earth magnetic material from manufacturing waste. In this Ames Lab 101 video file, Nlebedim describes recycling rare earths from magnet scraps on the factory floor.
Nlebedim has mentored student researchers at Ames Laboratory, including for the U.S. Department of Energy's Science Undergraduate Laboratory Internships (SULI). Nlebedim and Gavin Hester describe the SULI experience in this Ames Laboratory video.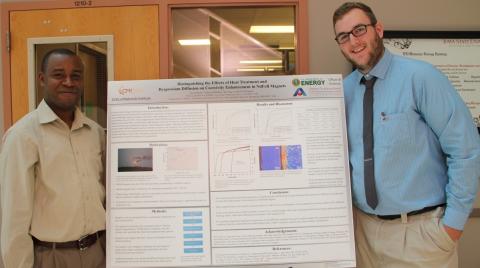 Ames Laboratory Researcher and SULI Mentor Ikenna Nlebedim (left) and Summer 2015 SULI Intern Gavin Hester (right)