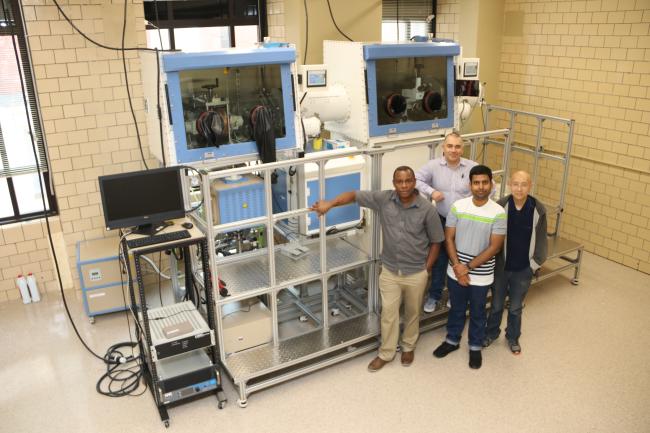 Scientists at the U.S. Department of Energy's Critical Materials Institute have a new and more accurate tool—a start-to-finish, controlled atmosphere materials processing system.  
Called CAMPS (Controlled Atmospheric Materials Processing System), it gives the researchers yet another advantage in pursuing CMI's mission—reducing or eliminating the need for rare earths and other materials that are in high demand.
For researchers like Ikenna Nlebedim, a CMI scientist at Ames Laboratory, that means being able to rapidly create and analyze small samples of materials under a very precise set of conditions. His research focuses on rare-earth magnets, a type of strong permanent magnet used in a host of modern technologies like cell phones, computer disk drives, electric vehicle motors, and wind turbine generators. Nlebedim's team of researchers have developed a recycling process that can recover rare earths back out of electronic wastes; they also investigate ways that the rare-earth content of magnets can be reduced or possibly eliminated.
"We want to remove all the variables we can when we are moving a magnet sample from one step to the next in a process," said Nlebedim. "But these materials are highly sensitive to moisture and oxidation. Every time we move the sample, the outcome can be affected by things we can't control, like air, moisture or how fast the researcher can move from one station to another in the laboratory. CAMPS takes these variables out of it, so we know our results are consistent."
CAMPS is a series of chambers in which all parts of the sample preparation process are under a controlled atmosphere. Metals or alloys can be pulverized into powders, analyzed for size and composition, compressed, magnetized, heated, and cooled, with operations being controlled from the outside by the researcher. The system is adaptable to suit investigating varied materials. The chambers can be interconnected or isolated from each other as needed, and atmosphere can be adapted to different gases. Modular construction means that additional operations can be added as needed.
 "CAMPS will help us refine magnet fabrication processes for the better," said Nlebedim.
The Critical Materials Institute is a Department of Energy Innovation Hub led by the U.S. Department of Energy's Ames Laboratory and supported by the Office of Energy Efficiency and Renewable Energy's Advanced Manufacturing Office, which supports early-stage applied research to advance innovation in U.S. manufacturing and promote American economic growth and energy security. CMI seeks ways to eliminate and reduce reliance on rare-earth metals and other materials critical to the success of clean energy technologies.
Ames Laboratory is a U.S. Department of Energy Office of Science National Laboratory operated by Iowa State University. Ames Laboratory creates innovative materials, technologies and energy solutions. We use our expertise, unique capabilities and interdisciplinary collaborations to solve global problems.
Ames Laboratory is supported by the Office of Science of the U.S. Department of Energy. The Office of Science is the single largest supporter of basic research in the physical sciences in the United States, and is working to address some of the most pressing challenges of our time. For more information, please visit https://energy.gov/science.
Contacts:
Tom Lograsso, CMI Interim Director, 515-296-4500
Laura Millsaps, Ames Lab Communications, 515-294-3474