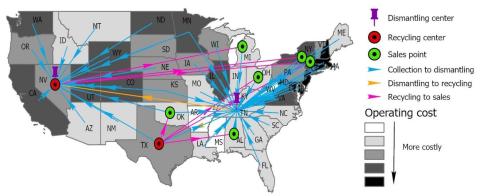 CMI researchers at the University of Arizona conducted the activity for this highlight
Innovation
A risk-averse stochastic program model and a Benders decomposition algorithm were developed to design a resilient reverse logistics supply chain network for NdFeB magnet recycling under the COVID-19 supply chain disruptions. 
Achievement
The model suggests the optimal facility locations, processing capacities, inventory levels, and material flows for NdFeB magnet recyclers that could meet >99% of the demand. 
While adding a facility and increasing inventory level would add costs, it may improve long term business profit and resilience.
A manuscript describing this work has been published in the journal Transportation Research Part E: Logistics and Transportation Review
Significance and Impact
Optimization of the NdFeB reverse logistics supply chain network will create a more sustainable business under disruptive events like COVID-19. 
Hub Goals Addressed
Modeling and analyses to optimize the economic value and environmental impact of CMI technologies.