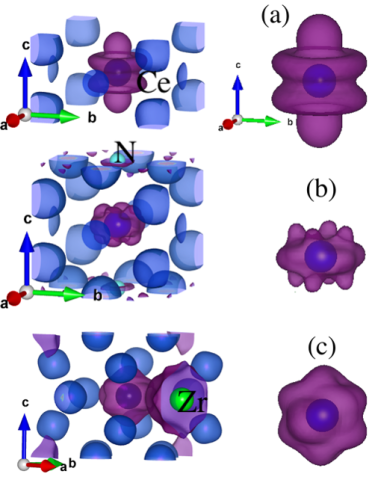 CMI researchers at Ames Laboratory conducted the activity for this highlight
Innovation
Discovery of Cerium-based CeZrFe11 with large magnetic anisotropy.
Achievement
Prediction of a new magnet material, CeZrFe11, with the largest magnetic anisotropy, and magnetic moment among Cerium-based 1:12 permanent magnet phases. 
Significance and Impact
Identified crystallographic site substitutions of Fe with Zr to improve the lattice stability and permanent magnetic performance.
Hub Target Addressed 
Win industry adoption of three technologies related to materials substitution for rare-earth magnet materials. 
C. Bhandari and D. Paudyal, "Enhancing stability and magnetism of  ThMn12-type cerium-iron intermetallics by site-substitution," Phys. Rev. Res. 4, 023013 (2022).