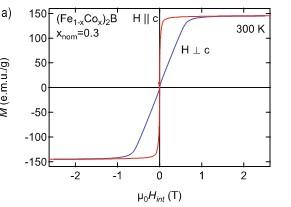 CMI researchers at CMI Team members Ames Laboratory, Iowa State University and UC-Davis collaborated with researchers at the University of Nebraska at Lincoln for this highlight
Achievement
Measurements find significant uniaxial anisotropy field for x=0.3 inA (Fe1-xCox)2B, with the potential for energy products BHmax as high as 25 MG-Oe if sufficient coercivity can be attained.
Significance and impact
Potential performance as high as 3x best commercial Alnico grades, with similarly excellent temperature independence of properties. 
Details and next steps
Samples display anomalous dependence of anisotropy both on Fe:Co ratio and temperature. Little loss of anisotropy at 500 K. Efforts underway to develop coercivity.