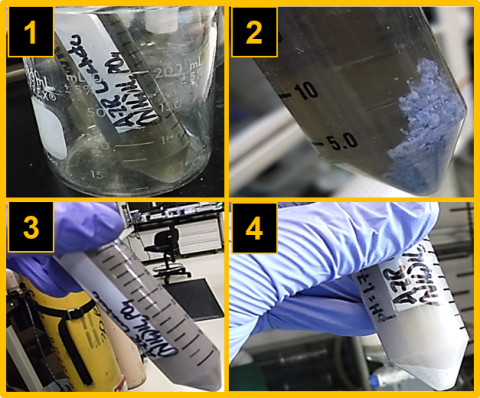 CMI researchers at Idaho National Laboratory conducted the research for this highlight
Innovation – Chemical treatment discovered with two important results:
Metal impurities Al and Fe are removed from LIB leachate
A Ni/Co sulfate double salt is recovered.*  
Achievement 
Ammonium phosphate addition to electrochemically produced leachates  induces Al and Fe precipitation (up to 99% Al and Fe yield) at pH 3-4. After filtration, Tutton's salt crystals of Ni/Co ammonium sulfate crystallize.
Significance and Impact
Reduces consumable acids and bases (pH swings) required by other pretreatment processes without additional water consumption. 
Minimal interference to recovery of high value metals Co, Ni, Mn & Li.
After Al and Fe precipitates are filtered, Ni/Co crystals form in the parent solution (25-35% recovered).
Next steps: Assess compatibility and integration with current metal recovery methods (solvent extraction, ion-exchange, precipitation, and electrodialysis)
Hub Target Addressed 
Recovery and conversion into high value end products