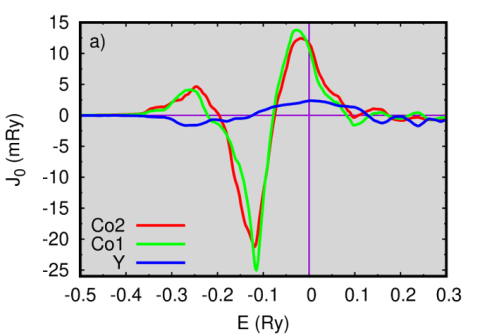 CMI researchers at Oak Ridge National Laboratory conducted the research for this highlight
Achievement
Fully relativistic theoretical calculations demonstrate that significant magnetic anisotropy is not necessarily associated with  presence of rare-earth metals suggesting a possible direction to increase Tc demonstrated. 
Significance and impact
In a contrast to critical REE based magnets YCo5 and likely LaCo5 the source magnetic anisotropy energy (MAE) is the 3d-state of Co. It is of principal importance to produce a permanent magnet without critical REE. 
Details and next steps
Calculations reproduce uniaxial magnetic anisotropy  in YCo5 with magnetic anisotropy energy ~8 MJ/m3 (see table).
Substitution of Y by Sc or Al (both 3 valence electrons metals) reduces MAE but keeps it sizable, indicating the source of MAE is the 3d transition metal.
The substitution of Co with transition metal with smaller number of valence electrons results in increase of Curie temperature (see Figure).