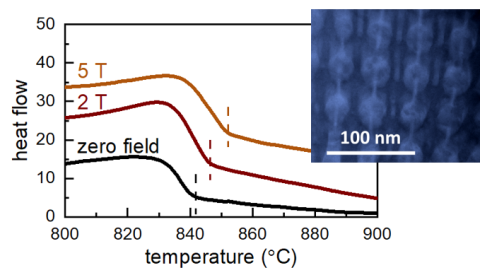 CMI researchers at Ames Laboratory and Oak Ridge National Laboratory conducted this research using samples from CMI Team members Arnold Magnetic Technologies and GE
Achievement
Demonstrated increases in coercivity and energy product and tuning of phase transformation temperatures in alnico using high magnetic field processing.
Significance and impact
Alnico is an important commercial magnet and improving its performance, in particular coercivity, could reduce demand for rare-earth magnets. This work demonstrates thermomagnetic processing may provide a path to achieve such advances.
Details and Next steps
Commercial alnico magnets from Arnold Magnetic Technologies and research samples from GE were used for this study
Magnetic fields applied during microstructural evolution appear to limit the size of the ferromagnetic domains, increasing coercivity.
Further experiments are required to fully optimize the processing conditions in the expanded temperature-time-field phase space and realize maximum benefit of thermomagnetic processing of alnico