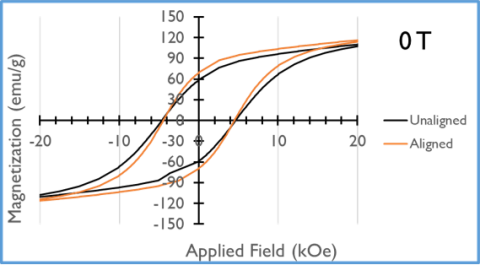 CMI researchers at Oak Ridge National Laboratory and Ames Laboratory conducted the activity for this highlight
Innovation 
Hydrogenation-Disproportionation-Desorption-Recombination (HDDR) processed NdFeB powders were produced while applying a magnetic field between 0 and 9 T during both the HD and DR steps of the process.
Achievement
New process allows for faster powder production, improves particle anisotropy and maintains magnetic texture. 
Significance and Impact
Work allows optimization of NdFeB magnet powders via application of magnetic field and is also likely applicable to SmCo magnet powder.
Hub Target Addressed 
Win industry adoption of three technologies related to materials substitution for rare earth magnet materials.