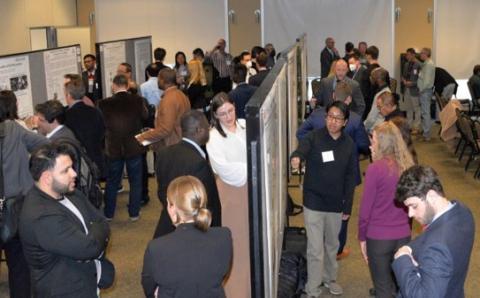 CMI researchers at Colorado School of Mines led the effort across the Energy Innovation Hub for this highlight
Innovation
Recognizing the next-generation researchers for critical materials research.
Achievement
Best Oral Presentation:
1st place: Chaochao Pan, Ames Laboratory, "Develop Continuous Hot-Roll Method to Fabricate High- Temperature Nd-Fe-B Magnets Free of Dy"
Honorable Mention: Meng Shi, Idaho National Laboratory, "Li2CO3 Recovery from Lithium-ion Battery Leachate"
Best Poster:
1st place: Caleb Stetson, Idaho National Laboratory, "Effect of Solute Ratios and Crystal Lattice on Metal Separations via Solvent-Driven Fractional Precipitation"
Honorable Mention: Kayla Cunningham, Colorado School of Mines, "Impacts of Rare Earth Elements on the Activity and Gene Expression of Nitrosomonas Europaea"
Hub Target Addressed
Developing the energy and materials workforce of the future. At the CMI Winter Meeting hosted by Colorado School of Mines, March 2022.