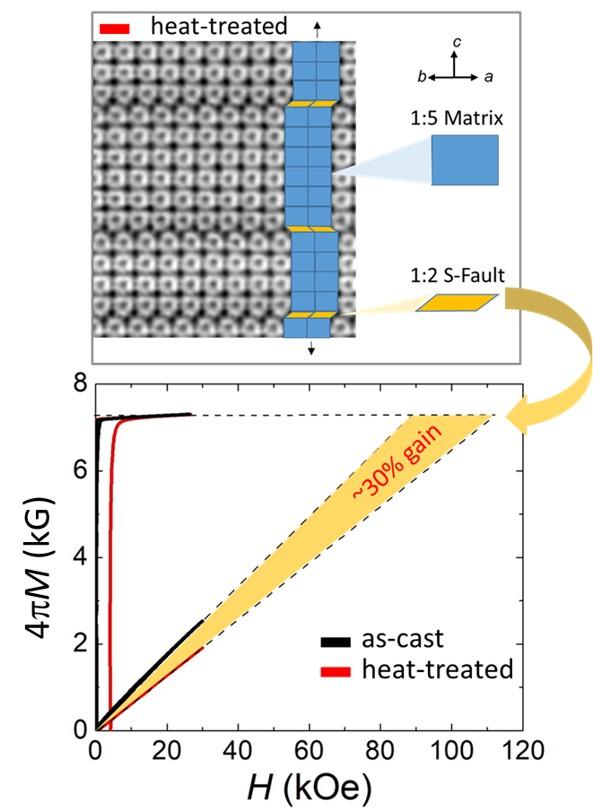 CMI researchers at Ames Laboratory conducted the activity for this highlight
Innovation
Economical Ce-based permanent magnets with readily available coercivity.
Achievement
Structurally induced magnetic anisotropy gain up to 30% caused by strain.
Because of reduced low-temperature solubility the material becomes faulted, i.e., 1:2 S-Faults (see Figure) generate strain and increases magnetic hardness
Significance and impact
Anisotropy gain is solely structural, without change of alloy composition
The structural transformation will be used for displacement of critical Co, e.g., by increasing magnetic hardness of structurally similar weakly anisotropic Fe-systems
Hub target addressed
Win industry adoption of three technologies related to materials substitution for rare earth magnet materials. 

O. Palasyuk, M. Onyszczak, T-H. Kim, L. Zhou, M. J. Kramer, S. L. Bud'ko, P. C. Canfield, A. Palasyuk. "Structural and magnetic properties of hard magnetic system Ce(Co1-xFex)4.4Cu0.6 (0 ≤ x ≤ 0.19)". J. Alloys Compd., 883, 2021, 160866, doi:10.1016/j.jallcom.2021.160866.