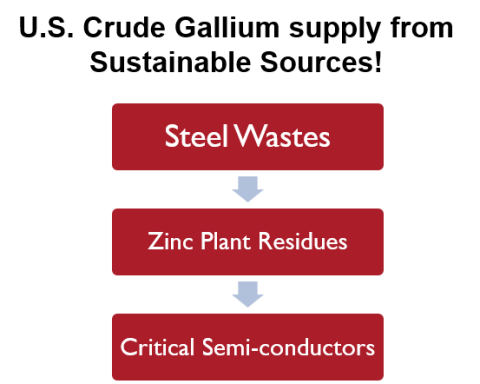 CMI researchers at Missouri S&T conducted the activity for this highlight
Innovation 
A combination of hydrometallurgical processes can extract Ga, Ge, and In from zinc plant residues. American Zinc Products (AZP) leach residue could be a renewable, sustainable source of semi-conductor elements that originate from steelmaking wastes.
Achievement
Characterized AZP leach residue samples for particle size, phases, and  composition.
First results on hydrometallurgical recovery are promising:

Leached >70% of gallium from residue using 6 M HCl at 70°C.
Recovered >95% of indium and >50% germanium from synthetic 0.915 M H2SO4 leach solution using solvent extraction.
Significance and Impact
Ga, Ge, and In resources are available in AZP leach residue. 90% of U.S. crude gallium needs could be met from AZP material.
Developed processes could be adapted for domestic or allied zinc processing facilities reducing supply risks of these semiconductor materials.
Hub Target Addressed 
Unlocking unconventional resources. Winning industry adoption of technologies for diversification of supply of critical materials.