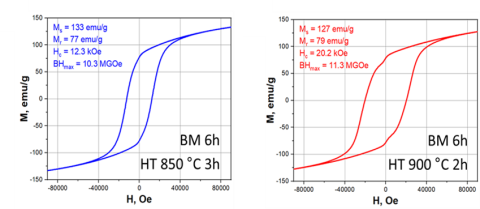 CMI researchers at Ames Laboratory conducted the research for this highlight
Innovation
Energy products exceeding 10 MG-Oe have been achieved in enhanced thermal stability Sm2Fe17N3-based materials.
Achievements
BHmax = 10.3 and BHmax = 11.3 MGOe demonstrated for partially aligned nitrogenated powders co-doped with La-Ti and La-Cr, respectively.
Significance and Impact
Criticality and cost: the material is mostly Fe (~74% wt.%) and contains non-critical rare earth (Sm, La) and earth-abundant dopants.
These materials as much as 80 C more stable than Sm2Fe17N3 with respect to thermal decomposition.
Hub Goal Addressed
Win industry adoption of three technologies related to materials substitution for rare earth magnet materials.