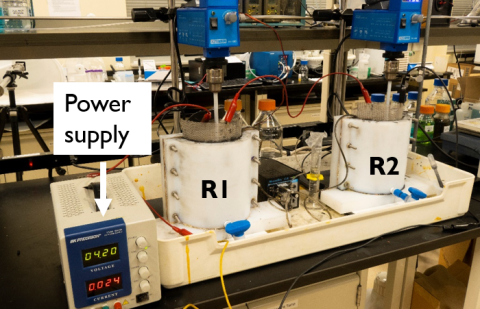 CMI researchers at Idaho National Laboratory conducted the research for this highlight
Achievement
Scale-up of the EC-leach for lithium-ion batteries black mass, with a capacity up to 500 g/day has been completed and successfully demonstrated, achieving over 96% leaching efficiency for all metals.   
Significance and impact
10X scale up performed with no effect in leaching efficiency.
Scale up using reactors in series allows increase in voltage while maintaining low currents, more suitable for a power grid that delivers energy at high voltage.
Demonstrated a reference electrode is not necessary and that conventional power supplies (i.e., rectifiers) can be used.
Details and next steps
Leachate concentrate with over 70 g/L metal concentration with a process volume of 2 L.
System integrates a pH pump to control final pH of the leachate
Increased volume was required for INL's mixer settler beds to examine SX separation