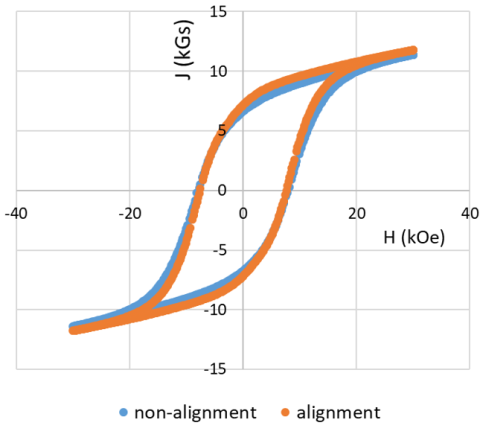 CMI researchers at Oak Ridge National Laboratory and Ames Laboratory conducted the research for this highlight
Innovation 
Hydrogenation-Disproportionation-Desorption-Recombination (HDDR) processed powders were produced with an applied field of 1 T during the hydrogenation-disproportionation (HD) step of the process
Achievement
Samples showed only Nd2Fe14B in XRD (no oxide or α-Fe).
Good coercivity despite unoptimized heat treatment parameters.
Powders are mostly isotropic but there are signs of potential to induce anisotropy. Anisotropy can be further enhanced by controlling hydrogen pressure and magnetic field.
Significance and Impact
Established a new process for producing HDDR powders. 
Bonded Nd-Fe-B is the primary type of Nd-Fe-B magnet produced in North America; hence, production of enhanced powders can enable the U.S. magnet industry.
Hub Target Addressed 
Win industry adoption of three technologies related to materials substitution for rare earth magnet materials.