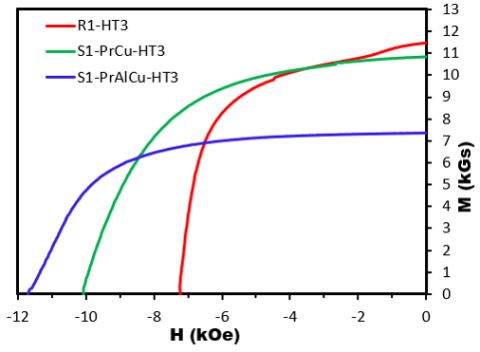 CMI researchers at Ames Laboratory conducted the activity for this highlight
Innovation
Coercivity of 12 kOe was achieved in the La-Nd based magnet via diffusion of sintering aid.
Achievement
Large coercivity will ensure resistance to demagnetization for the application of La-Nd magnets. 
Significance and impact
Helped advance coercivity beyond the previously reported 9 kOe by better utilization of the under-utilized anisotropy field. 
Diffusing non-magnetic Pr-Cu or Pr-Al-Cu into magnets enabled grain boundary engineering for improved coercivity in La-Nd magnet.
Inspires search for a more effective coercivity enhancing material. 
Hub Goal Addressed 
Conversion into high value end products; Increase speed of discovery and integration.