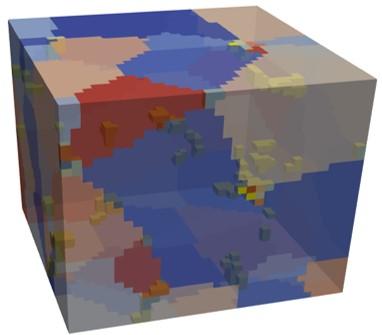 CMI researchers at Ames Laboratory conducted the research for this highlight. 
Achievement
Microstructural modeling has revealed an optimum concentration of a strengthening phase necessary for enhanced mechanical properties. Our results show that addition of MgO beyond 0.5 – 1 vol.% becomes detrimental to the mechanical properties of Sm-Co.
Significance and impact
Using less amount of MgO will enable enhancement in mechanical properties without substantially diluting magnetic performance. 
This result can guide experimental team in the new effort to use MgO for strengthening fracture toughness of Sm-Co and reduce wastes during processing and service.
Next steps
Understand the role of grain size on the optimum MgO concentration.
Perform computational microstructure design to simultaneously achieve high performance in both magnetic and mechanical properties.
Extend the work to Nd-Fe-B.