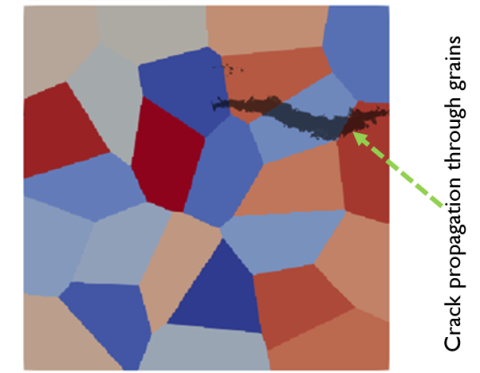 CMI researchers at Ames Laboratory conducted the research for this highlight
Innovation 
Identify microstructural changes for enhanced fracture toughness in Nd-Fe-B magnets.
Achievement
Micro-mechanical modeling reveals a microstructural engineering approach for enhancing fracture toughness of Nd-Fe-B. Approach differs from that of Sm-Co magnets, which have different a fracture mode compared to Nd-Fe-B magnets.
Significant and Impact
Enhancing mechanical properties of Nd-Fe-B will help reduce losses in critical elements during manufacturing and post-manufacturing operations.
Our result ensures that the experimental team focuses efforts in directions that will yield positive results.
Hub Target Addressed
Win industry adoption of three technologies related to materials substitution for rare earth magnet materials.