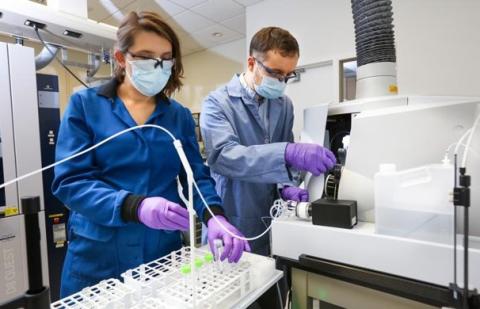 CMI researchers at Oak Ridge National Laboratory and Idaho National Laboratory conducted the activity for this highlight
Innovation 
Novel diglycolamide (DGA) extractants enable high-throughput REE separations with significant reductions in reagent and equipment requirements.
Achievement
CMI industry partner Marshallton Research Laboratories has licensed a new technology for REE separations using DGA extractants.
Significance and Impact
DGAs have superior selectivity among light REEs and do not require acid/base consumption typical of current industrial separation methods, potentially resulting in significant cost savings.
The license grants Marshallton the right to perform research and development to make and use the DGA extractants.
Next steps: Demonstration of a REE solvent extraction separation flowsheet, opening the door to a full commercial license and implementation.
Hub Target Addressed 
Licensing of this technology achieves the FA1 Hub-level goal for industry adoption of a CMI technology that diversifies the supply of REE.