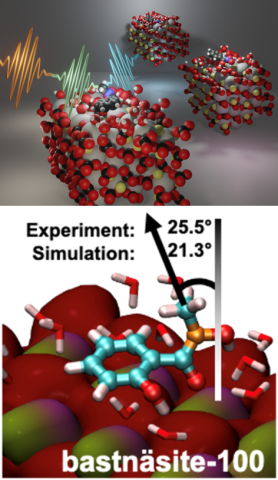 CMI researchers at Oak Ridge National Laboratory conducted the activity for this highlight
Innovation 
A combined theoretical and spectroscopic approach provides unprecedented insight into how hydroxamic acid-based ligands behave at the molecular level as collectors for selective froth flotation in rare earth ore beneficiation.
Achievement
Demonstrated strong, selective binding of a novel ligand containing two hydroxamic acid groups on the predominant bastnäsite crystal facet.
Provided meaningful insight into molecular recognition of bastnäsite vs calcite with five hydroxamic acid-based collectors and elucidated the role of water molecules.
Significance and impact
Over a billion tonnes of minerals are concentrated by flotation each year, but poor understanding stands in the way of reducing losses, waste, and energy consumption.
Highly selective collectors for rare earth minerals are key to improved flotation.
Explicit solvation is shown to be essential in density functional theory calculations of hydroxaminc acid adsorption mechanisms, leading to improved prediction.
Observed molecular recognition behavior can help guide the design of future collectors. 
Hub Target Addressed 
Highly selective separation from complex sources.