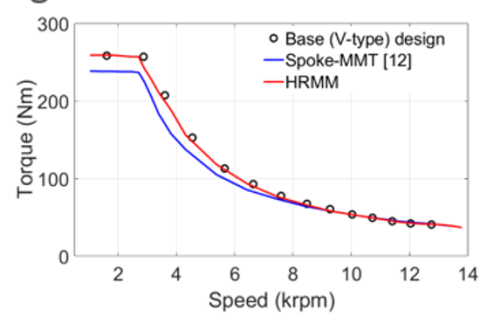 CMI researchers at Ames National Laboratory conducted the research for this highlight
Innovation
A Hybrid Rotor Multiple Magnets (HRMM) design is proposed to reduce the use of rare earth elements in electric vehicles, while maintaining comparable performance with a commercial design.
Achievement
Substitutes 50% of Nd-Fe-B magnet in 2010 Toyota Prius with ferrite magnet. 
Maintains comparable speed-torque characteristics with original Prius 2010 design. 
HRMM offers a higher torque/$, compared to the original design.
Significance and impact
Addresses potential shortages in critical rare earths. 
Enables sustainable vehicle electrification.
Hub Goal Addressed
Reduction of critical RE magnets usage in EV motors.
https://link.springer.com/article/10.1007/s11837-022-05594-5