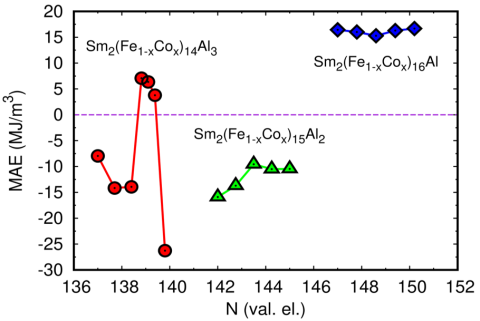 CMI researchers at Oak Ridge National Laboratory conducted the activity for this highlight
Innovation
Theoretical calculations find that Iron substitution with cobalt and aluminum in Sm2Fe17 results in low-cost uniaxial permanent magnet materials.
Achievement
Discovery of potential high-performance magnet family. 
Significance and Impact
Magnet materials, if experimentally confirmed, may become lower-criticality, lower cost competitors to SmCo magnets with as much as 80% reduced cobalt content and energy products in the 20-30 MG-Oe range.
Hub Target Addressed 
Win industry adoption of three technologies related to materials substitution for rare earth magnet materials
G. Samolyuk, D. Parker, "Potential High-Performance Magnet Materials: Co- and Al-alloyed Sm2Fe17," Phys. Rev. Mat. 6, 054441 (2022). ORNL invention disclosure 202205029 filed January 10, 2022.