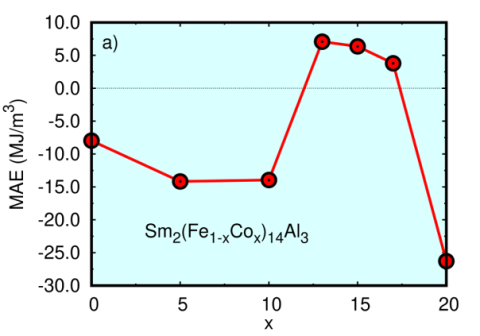 CMI researchers at Oak Ridge National Laboratory conducted the research for this highlight
Achievement
Theoretical calculations demonstrate that alloying with Cobalt  and Aluminum in Sm2Fe17 results in low-cost permanent magnet materials with excellent intrinsic properties.
Significance and impact
We propose a magnet based predominantly on Iron with low Cobalt content  (~15 % Co in Fe sublattice) and relatively inexpensive Samarium, with potential BHmax in the 20-30 MG-Oe range. 
Details and next steps
First principles calculations demonstrated that Sm2(Fe1-xCox)14Al3 is uniaxial with magnetic anisotropy energy ~8 MJ/m3 in range of Cobalt concentrations 13-18% (top figure).
The calculated magnetization at 13% Co substitution is 1.01 T.
Substitution of Cobalt into Sm2Fe16Al results in even larger uniaxial anisotropy in all range of Co concentrations.
Co substitution also increases Curie point significantly.