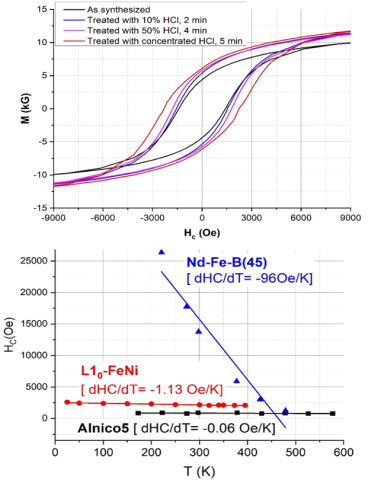 CMI researchers at Ames Laboratory conducted the research for this highlight
Achievement
Demonstrated enhanced magnetic properties of L10-FeNi by implementing a simple post-synthesis HCl leaching treatment (top). Coercivity exceeds that of Alnico and will likely exceed that of NdFeB above ~150 °C (bottom).
Significance and impact
Excellent temperature dependence of coercivity may position magnet, upon optimization, as lower-cost competitor to Alnico.
High-performance, rare earth-free, low-cost material with the potential to quickly and broadly penetrate PM markets
Details and next steps
Leaching removes paramagnetic impurities and improves microstructure.
Plan to scale-up to 1-10 g quantities of the product; IP disclosure drafted.
Beneficiation (Fe/Ni ratio; doping with 1-2 at.% of transition elements, optimization of post-synthesis treatment).