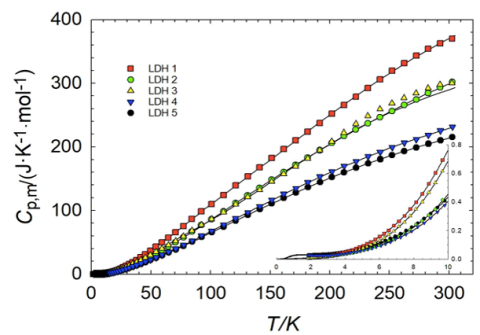 CMI researchers at Arizona State University, Oak Ridge National Laboratory, and Brigham Young University conducted the research for this highlight
Heat capacity measurements on layered double hydroxides explores factors controlling materials stability
Achievement
Thermodynamic studies used to isolate important features that control the stability and longevity of Li-Al-Cl layered double hydroxide (LDH) sorbents. 
Significance and impact
LDH sorbents open the possibility of selectively recovering lithium from geothermal brines, which could significantly increase the domestic production of Li for rechargeable batteries. Our detailed thermodynamic analysis unravels important factors that control LDH stability and materials lifetime and serves as a guide to the further optimization of these unique materials. 
Details and next steps
A combined analysis of heat capacities, configurational entropies, enthalpies, and Gibbs energy of formation used to provide insight in factors that affect LDH stability. 
Small amount of Fe doping can stabilize LDH, while higher levels destabilize the structure
Preliminary results suggest water/anion ratios can have a pronounced effect on stability, requires further studies

S°298.15 (J·K-1·mol-1) vs moles of water in the doped and undoped [Li-Al-Cl] LDHs