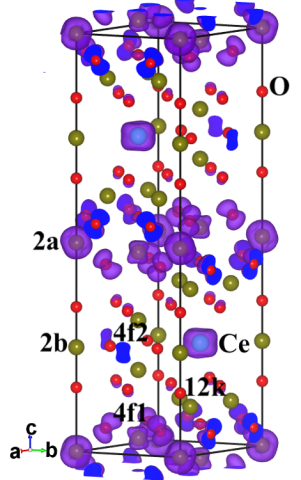 CMI researchers from Ames National Laboratory conducted the research for this highlight.
Innovation 
We find, from theory, a giant magnetocrystalline anisotropy in Cerium substituted M-type hexaferrite.
Achievement
The Ce increases the magnetocrystalline anisotropy constant of the parent compound by at least an order of magnitude. The net magnetic moment also increases as the anisotropy-producing Cerium 4f electrons also create an orbital moment.
Significance and Impact
With successful synthesis, the Ce-hexaferrite can be a new critical-element-free permanent magnet material adopted for use in devices such as automotive traction drive motors.
Hub Target Addressed 
Win industry adoption of three technologies related to materials substitution for rare earth magnet materials. 
C. Bhandari and D. Paudyal, Phys. Rev. Applied 20, 024016 (2023).