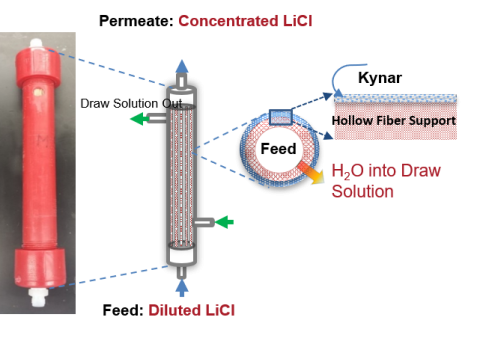 CMI scientists at Oak Ridge National Laboratory conducted this research.
Achievement
Energy-efficient concentration of LiCl recovered from geothermal brine has been achieved, where LiCl concentration increases from 35 g/L to 175 g/L
Significance and impact
The technology concentrates high-purity LiCl for efficient conversion into Li2CO3 or Li(OH), feedstocks for fabrication of lithium ion batteries. Energy savings of >90% vs thermal evaporation or > $60/m3 of water removal can be obtained. 
Details and next steps
Stable performance for >500 hours
No cation transfer from draw solution
LiCl purity: >99.99 wt%
Hot operating temperature: 75–80°C
Optimize process to increase water flux
Work with partner to scale up for demonstration and commercialization