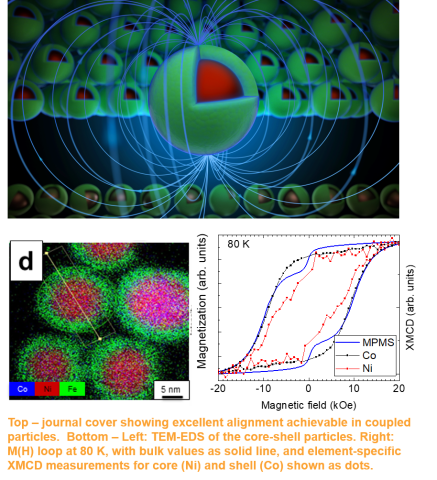 CMI researchers from Ames National Laboratory and Lawrence Livermore National Laboratory conducted the research for this highlight.
Innovation
Unambiguous demonstration of magnetic exchange coupling in metal-oxide core-shell nanoparticles.
Achievement
Demonstration of 3d exchange coupling between Ni nanoparticles and their CoFe2O4 shell. The Ni core has zero coercivity by itself but when coated develops a large coercivity that matches the magnetically hard CoFe2O4 shell.
Significance and Impact
Interface quality and production scaling have, to now, stymied the deployment of exchange-coupled magnets. This result is the first clear demonstration of the process in air-stable materials with an approach scalable to bulk production.
Hub Goal Addressed
Reduce chemical, material, and energy intensity of mineral and materials processing.