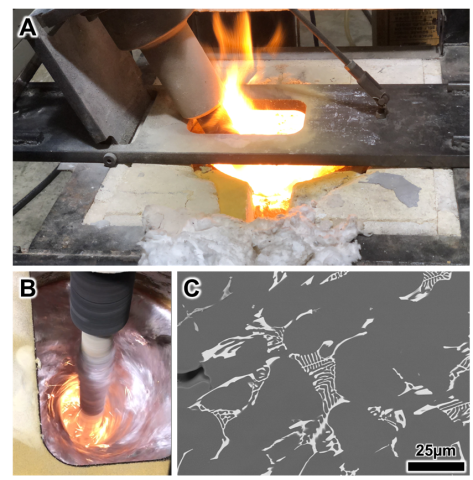 CMI researchers at Ames National Laboratory, Oak Ridge National Laboratory, University of Tennessee, Knoxville, and Eck Industries conducted the research for this highlight
Innovation
Process intensification of Al-Ce alloying by skipping prior Ce metallization step.
Achievement
Patent Issued on a new process for alloying Ce with Al using abundant REE mining by-products.
Significance and Impact
Direct reduction of Ce oxide and carbonate offers the possibility of cost savings and lower energy consumption.
Savings increase incentives to deploy Al-Ce alloys.
Greater demand for Ce increases mining revenue for REE.
Better mining economics diversifies supply of REE.
Hub Target Addressed 
Diversifying the supply of REE by increasing the value of co-mined cerium. Conversion of critical materials into high-value end products. Industry adoption of REE technology.