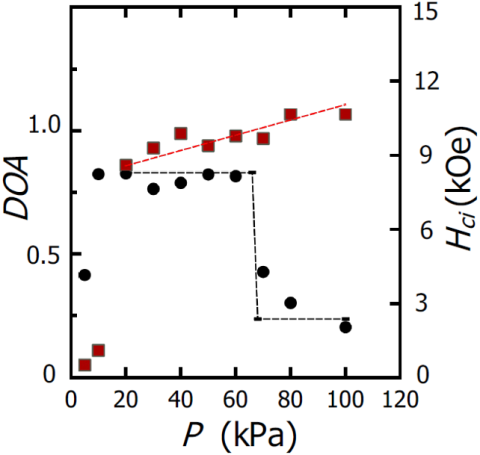 CMI researchers at Ames Laboratory and Oak Ridge National Laboratory conducted the research for this highlight
Achievement
We have discovered a critical hydrogen pressure to form strong crystal texture in Nd-Fe-B during the Hydrogenation Disproportionation Desorption and Recombination (HDDR) process. To our knowledge, such a critical pressure was previously unknown.
Significance and impact
This finding significantly aids the preparation of the high-performance anisotropic Nd-Fe-B magnet powder central to the U.S. bonded magnet industry, including additive manufacturing. 
Anisotropic magnet powders obtained via the HDDR route will yield higher energy density bonded magnets (15 – 25 MGOe) with smaller volumes of magnet powder, relative to isotropic powders.
Bonded Nd-Fe-B is the primary type of Nd-Fe-B magnet produced in North America; hence, this finding strongly supports the U.S. magnet industry. 
Next steps
Improve magnetic performance via enhanced anisotropy by introducing additional parameters, such as magnetic field during the HDDR process.