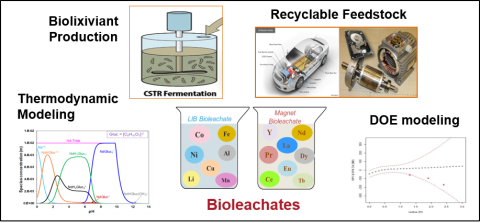 CMI researchers at Ames Laboratory, Idaho National Laboratory, Lawrence Livermore National Laboratory, University of Arizona, Purdue University, and Rutgers University conducted the activity for this highlight
Innovation 
Diverse CMI research expertise converges to advance recycling of critical materials.
Achievement
Collaboration between microbiologists and experts in thermodynamic and design of experiment (DOE) modeling, chemical separations, and TEA and LCA improves prospects for critical materials biorecovery.
Significance and Impact
Greater yields and higher purity critical materials from magnet and LIB wastes.
Better economic and environmental performance for a novel green technology.
Hub Target Addressed
Increasing the speed of discovery and integration.