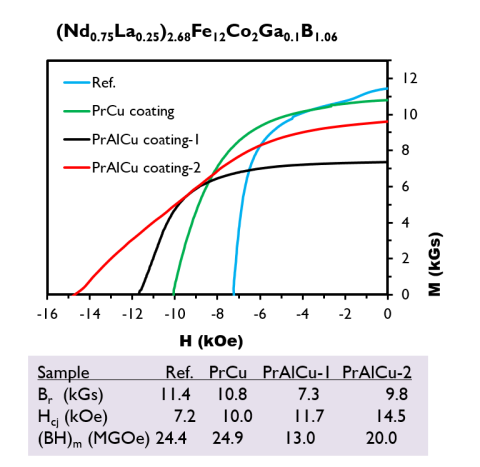 CMI researchers at Ames National Laboratory conducted the research for this highlight
Innovation
Obtained a record coercivity exceeding 14 kOe in the LaNd-based magnet by diffusion of a sintering aid.
Achievement
Obtained a La-Nd based magnet with a coercivity of 14.5 kOe by diffusing a sintering aid into the sintered magnet. The improvement over the previous 12 kOe record was achieved through a careful removal of the diffusion source from the magnet.  
Significance and impact
Achievement of coercivity values exceeding remanence values is important step towards manufacture of 'hard' magnets in arbitrary shape. Further confirmed that grain boundary engineering is an effective approach to improve coercivity. 
Hub Goal Addressed
Industrial adoption of CMI technologies.