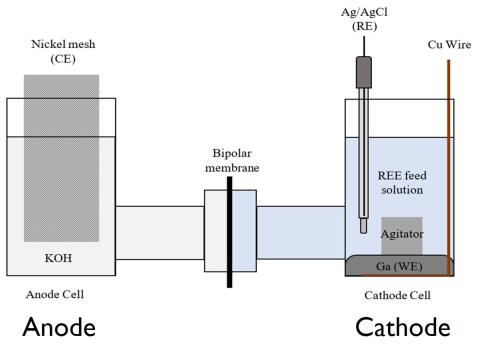 CMI researchers at Idaho National Laboratory conducted the activity for this highlight
Innovation 
Produce rare earth alloy products from aqueous solution, at low temperatures (<100°C).
Achievement 
Powders produced by electrochemical reduction of Pr3+ by a Ga cathode at 40°C were examined by scanning electron microscopy and energy dispersive X-ray spectroscopy (SEM-EDS).
Powders heterogeneous, but EDS elemental analysis showed consistently that Pr and Ga were at least partially reduced.
Significance and impact
Approach offers a way to produce REE alloys with low energy inputs. 
Ability to characterize products enables process optimization.
Alloys to be evaluated as potential feeder anodes for low-temperature REE metal production in non-aqueous electrolytes.
Hub target addressed 
Recovery and conversion into high value end-products.