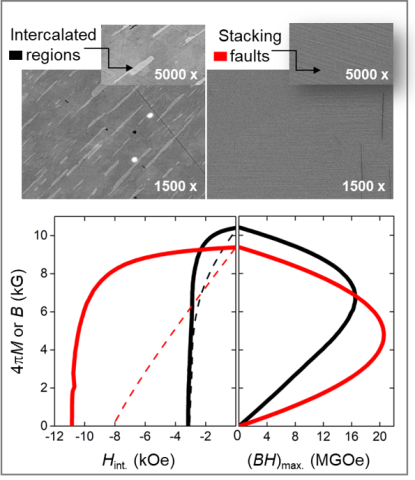 CMI researchers at Ames National Laboratory conducted the research for this highlight
Innovation
Novel cerium-based magnets for U.S. national needs.
Achievement:
Development of heat treatment (HT) procedure, which facilitates formation of 2:7-type stacking faults (instead of intercalated regions), strictly anisotropic and evenly dispersed within the matrix material. 
Microstructure yields development of record ~10.6 kOe (BH)max = 20.4 MGOe of coercivity and energy product, respectively.
Significance and Impact
Magnet is viable lower-cost competitor to SmCo magnets at lower Co content (43 wt.% vs. 53+%) using earth-abundant, inexpensive, industrial grade Cerium. 
Hub Goal Addressed
Win industry adoption of three technologies related to materials substitution for rare earth magnet materials.