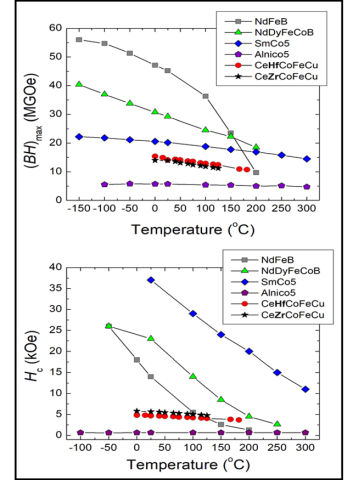 CMI scientists at Ames Laboratory conducted this research.
Achievement
At 200 oC the Ce-based "gap magnet" matches the energy product and exceeds the coercivity of 45 MGOe grades of neodymium-based permanent magnets
Significance and impact
The "gap magnet" may find particular usage in high-temperature (above 150 oC) applications due to its favorably small temperature coefficients of remanence and coercivity
Details and next steps
The remanence coefficient a of -0.06 %/oC is similar to SmCo5, with which this magnet will compete. However, the coercivity coefficient b of -0.13 %/oC is significantly better than the -0.4 %/oC of SmCo5. Future steps will include measurements at temperatures up to 300 oC.