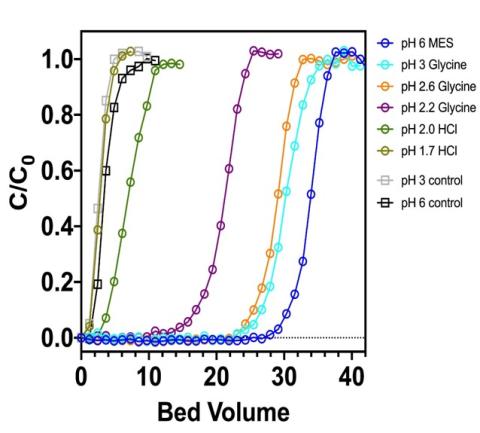 CMI researchers at Idaho National Laboratory, Lawrence Livermore National Laboratory and Pennsylvania State University conducted the research for this highlight highlight
Achievements
Demonstrated successful conjugation of Lanmodulin (LanM), a natural protein with high affinity and selectivity for REEs, onto porous materials to enable on-column REE purification. 
Significance and impact
Use of LanM offers a new and more sustainable avenue for REE recovery. A column setup with immobilized LanM exhibits REE binding patterns similar to that of the free protein, with high REE binding affinity at low pH (down to ~3). The acid resistance overcomes a major limitation for protein application in metal extraction.
Details and next steps
By testing leachates prepared from different feedstocks, we will demonstrate an all aqueous, eco-friendly process for selective REE recovery.