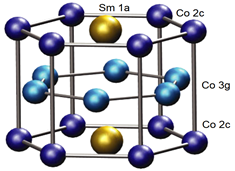 This CMI-funded research was conducted at Ames Laboratory.
Achievement:
Using electronic structure modeling, strong quenching  of orbital magnetic moment was identified as the prime cause of unusually high magnetic anisotropy in SmCo5
Significance and Impact:
Demonstrated validated theory and modeling techniques to resolve unsolved key permanent magnet parameters, such as magnetic anisotropy and orbital moment emerging from rare-earths
Sm-Co magnets offer relatively high energy-product at high-temperature suitable for technological applications from electric vehicles to wind turbines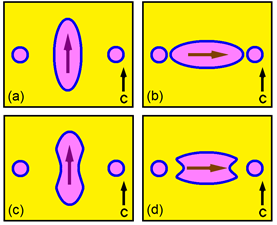 Details and Next Steps:
Electronic structure of the Sm atoms violates Hund's rules and the orbital moment is strongly quenched providing strong anisotropy and net 4f moment
Rationalizing the orbital-moment quenching in terms of the dependence of the 4f charge distribution, a long-run future research will be necessary to reconcile experiment, sub-lattice model, and ab-initio theory
Publication:
B. Das, R. Choudhary, R. Skomski, B. Balasubramanian, A. K. Pathak, D. Paudyal, and D. J. Sellmyer, "Anisotropy and Orbital Moment in  Sm-Co Permanent Magnets," Phys. Rev. B, 100, 024419 (2019).