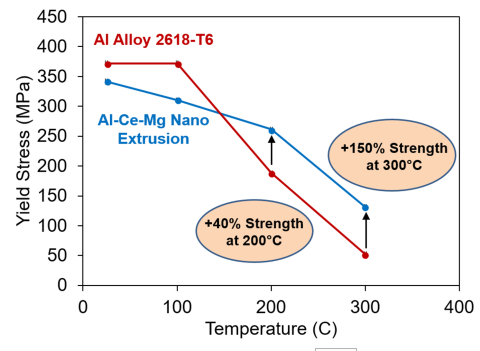 CMI researchers at Oak Ridge National Laboratory and Idaho National Laboratory conducted the activity for this highlight
Innovation
Compactions of Al-Ce-Mg powders dramatically outperform 2618-T6 at high temperature.
Achievement
Al-Ce alloys formed by rapid solidification exhibit nanostructure and improved properties. Compacting nanostructured Al-Ce powder by extrusion results in a material with high temperature properties far superior to Al alloy 2618-T6.
Alloy strengthens with coarsening-resistant nano-dispersoids, unlike conventional alloys that strengthen with heat treatment.
Significance and Impact
Al alloy 2618-T6 is commercial Al alloy of choice for high temperature applications. Al-Ce significantly outperforming 2618-T6 at high temperature is an important milestone and will incentivize industrial interest. The next step is scale up and room temp strength improvement by process iteration.
Hub Target Addressed
Develop substitutes for Al-Li alloys
Diversify supply of REE by increasing demand for Ce in a high value product