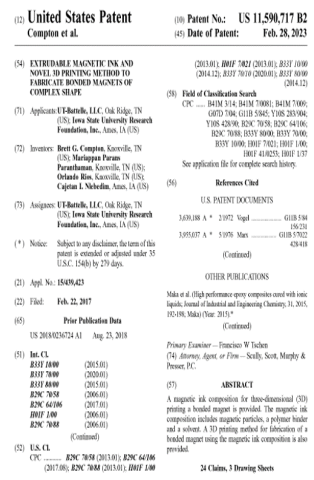 CMI researchers from Oak Ridge National Laboratory, Ames National Laboratory and University of Tennessee, Knoxville, conducted the research for this highlight.
Innovation 
Developed an additive manufacturing method to produce NdFeB bonded magnets with complex shape and sizes.
Achievement
Successfully printed bonded magnets using anisotropic NdFeB magnet particles up to 70 vol% with epoxy polymer binders.
Significance and Impact
Near-net-shape magnets were obtained without need for tooling compared to injection molding.
Greater thermal stability, corrosion resistance, higher resistivity, recyclability, and improved mechanical properties achieved. 
Hub Target Addressed 
Developed alternate magnet production to address supply chain needs for domestic critical rare earth magnet manufacturing.