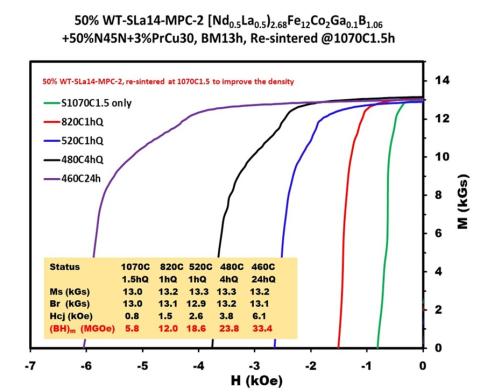 CMI researchers at Ames Laboratory  conducted the research for this highlight
Achievement
Exploration of heat treatment shows a large impact on the coercivity of La-Nd based magnets (from 3.8 kOe to 6.1 kOe) and improved (BH)max from 24 to 33 MGOe at RT, for a 25:75 La:Nd ratio. 
Significance and impact
This result proves that heat treatment is a powerful tool to optimize coercivity. In addition, the current heat treatment profile designed for Neo magnet will be optimized for treating the La-Nd based magnet. If we can resolve the non-square loop on the MH curve (see the Figure) by a gentler heat treatment, we will likely achieve 40 MGOe. 
Next step
Optimize processing conditions to achieve 40 MG-Oe.