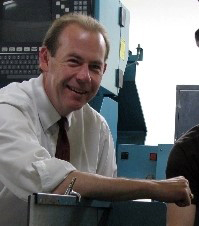 CMI Researcher John W. Sutherland is a Professor and the Fehsenfeld Family Head of Environmental and Ecological Engineering at Purdue University. He received his B.S. and M.S. degrees in Industrial Engineering, and his Ph.D. in Mechanical Engineering from the University of Illinois at Urbana-Champaign (UIUC).
Dr. Sutherland was one of the first researchers in the United States to pursue environmentally responsible manufacturing.  He has investigated such issues as dry or near-dry machining, mechanisms for airborne particulate formation in cutting operations, development of environmental profiles for manufacturing processes, logistics for bio-fuel production, and strategies for closing material loops in product life cycles, including recycling and remanufacturing. His research has been supported by the National Science Foundation, U.S. Environmental Protection Agency, U.S. Department of Energy, and such companies as Ford, GM, Caterpillar, General Dynamics, and Boston Scientific.
Dr. Sutherland has mentored over 80 students to the completion of their graduate degrees, including 22 PhD students. He has published over 300 papers in various journals and conference proceedings. Dr. Sutherland is also a co-author of the textbook, Statistical Quality Design and Control: Contemporary Concepts and Methods. He is a Fellow of the Society of Manufacturing Engineers (SME), the American Society of Mechanical Engineers (ASME), and the International Academy for Production Engineering (CIRP). His recognitions include the SME Outstanding Young Manufacturing Engineer Award (1992), Presidential Early Career Award for Scientists and Engineers (1996), Society of Automotive Engineers (SAE) Ralph R. Teetor Educational Award (1999), SME Education Award (2009), Outstanding Lifetime Service Award from the North American Manufacturing Research Institution of SME (2010), the SAE International John Connor Environmental Award (2010), and the ASME William T. Ennor Manufacturing Technology Award (2013).