The Critical Materials Institute employs around 80 students per year, and recently started checking on students who were promoted at their CMI institution or left CMI for other positions. Our list includes hundreds of alumni and current early career researchers, as well as previous undergraduate students, graduate students and postdocs who now are working for government, national laboratories, universities, industry, and nonprofit or associations.
Government offices, including the U.S. Department of Energy, Colorado Department of Public Health, the Chilean Copper Commission, and the U.S. Navy.
National laboratories, including CMI Team members as well as NREL.
Universities, including CMI Team members Mines, University of Tennessee-Knoxville, as well as Colorado State University, Brigham Young University – Idaho, University of Nevada-Reno in the United States and the Interdisciplinary Center Herzliya, Israel, the University of Vienna and Sun Yat-Sen University in China.
Industry in various sectors and other types of corporations:

Energy, mineral and mining industries: Arkema, Chevron, Freeport-McMoRan, Gopher Resource, Hull Street Energy, Livista Energy and Norton Gold Fields Limited.
Engineering and technology: Apple, Applied Intellect, Benchmark Mineral Intelligence, Certified Laboratories, Illumina, Intel Corporation, JonDeTech Sensors, Micron Technology, Moxtek, Paterson & Cooke, Pulead Technology Industry, and WSP.
Other corporations: Ausco Products, Principal Financial Group, GLOBALFOUNDRIES, Loreal, Office Depot, MedStar Health, Tetra Tech, and The Aerospace Corporation.

Nonprofit and Association: Environmental Defense Fund and the International Energy Agency.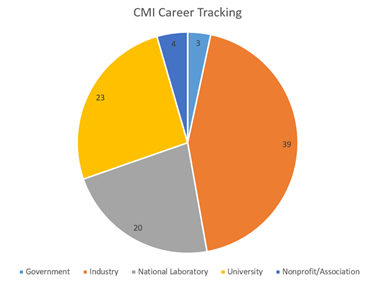 See descriptions of some CMI students and postdocs in CMI encourages early career research careers