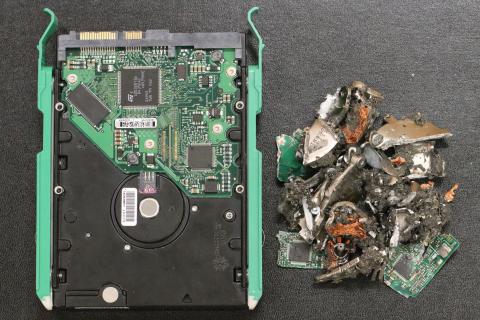 Acid-free rare earth magnet recycling
A new acid-free rare-earth magnet recycling process invented by scientists at the Critical Materials Institute (CMI) and Ames Laboratory recovers more than 99 percent purity rare-earth elements from recycled magnet material. In addition, cobalt is recovered from cobalt-containing magnet wastes. The rare-earth materials recovered are used in making new magnets while the recovered cobalt shows promise for use in making battery cathodes. 
Discovering new phosphors for lighting 
The Critical Materials Institute (CMI) along with GE and Lawrence Livermore and Oak Ridge National Laboratories has discovered new phosphors for use in efficient lighting technologies, such as fluorescent long tube lighting and LEDs. CMI has developed an accelerated materials discovery framework that predicts which new materials have the characteristics needed for lighting applications and scales up the production of these materials for manufacturing trials. These methods allowed for quick screening of viable candidates, taking into account manufacturing requirements. Within in a two-year span, this approach helped scientists rapidly identify replacements for red and green phosphors in fluorescent lamps, eliminating the use of europium and terbium. The process was then extended to LED phosphors, and within the first year and a half of that effort, CMI scientists identified viable candidates for replacements for both red and green phosphors in LED lighting with narrow bandwidth.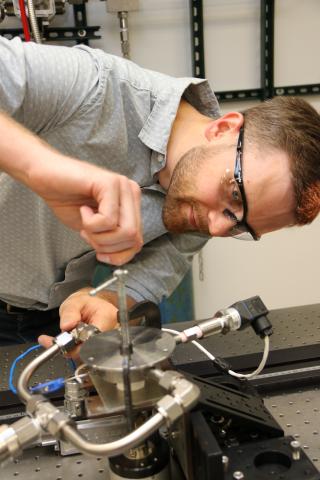 Fine-tuning feedstock powders for additive manufacturing 
Conventional gas atomized powders, even those produced by aerospace-qualified powder makers, are far from ideal feedstock powders for either laser or e-beam melted  methods of additive manufacturing, with variations above and below ideal size and "satellite" projections and poor flowability. Atomization process modeling, verified by experiments, demonstrated efficiency and effectiveness at solving these problems. Development of 3-D incompressible macro-flow modeling produced realistic atomization spray chamber recirculation simulations for the Ames Laboratory gas atomizer, which explain the observed satellite suppression effects and suggest other methods to maintain smooth spherical powder shapes with excellent flowability.