Scientific Achievement
Direct conversion of waste plastics into liquids with low-temperature catalytic hydrogenolysis. These liquids lubricate as effectively as expensive synthetic lubricant.
Significance and Impact
Upcycling of an untapped feedstock is showcased as economically feasible and the product as a base oil effectively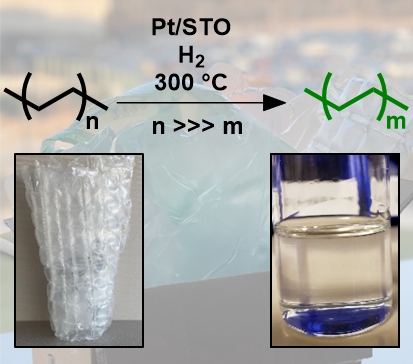 lowers the coefficient of friction and reduces wear in a mechanical system under operating conditions.
Research Details
–Catalytic hydrogenolysis of HDPE, LLDPE, and bubble wrap was performed at 300 °C and 170 psi of H2 under solvent-free conditions, yielding monodisperse liquid products from single-use polyethylene stream, with no detectable unsaturated hydrocarbons
–Tribological analysis at 25 and 100 °C showed that liquid products from the hydrogenolysis of plastics have superior performance compared to Group III mineral oil at 25 °C and comparable to synthetic PAO oils at 100 °C
–Techno-economic analysis of the catalysis and liquid product yielded a production cost of $4.09/gallon with a selling point of ~$9.00/gallon, making lubricant production using waste plastics economically viable
Hackler, R. A.; Vyavhare, K.; Kennedy, R. M.; Celik, G.; Kanbur, U.; Griffin, P. J.; Sadow, A. D.; Zang, G.; Elgowainy, A.; Sun, P.; Poeppelmeier, K. R.; Erdemir, A.; Delferro, M. Synthetic Lubricants Derived from Plastic Waste and their Tribological Performance. ChemSusChem 2021, DOI: https://doi.org/10.1002/cssc.202100912.