MPC offers a wide range of services for those involved in metallurgical, materials science and engineering, materials chemistry, and materials physics involving the use high purity rare earth metals, high purity alloys and intermetallic compounds, and single crystals. With capabilities ranging from small-scale arc casting and single crystal preparation to ingot casting with vacuum induction melting (VIM), casting and plasma melting (PAM), this breadth of capabilities positions MPC to assist research groups in many areas.
MPC is not a production facility; we specialize in preparing lab scale alloys and can cast ingots up to 5" in diameter by 17" long. Post alloying MPC can fabricate samples to specific forms with rolling, swaging, wire drawing, and EDM cutting. With metallography, analytical, and characterization resources to complement our fabrication capabilities, MPC is capable of addressing projects from many directions. All services are provided on a cost recovery basis.

Metal & Alloy Services
The MPC specializes in the preparation, purification, and fabrication of high-purity rare earth metals, refractory metals, alkaline earth metals, and alloys in single and polycrystalline forms.
Utilizing a core staff consisting of three research scientists and three technicians, this section prepares unique materials with a variety of techniques. Facilities exist for the preparation and purification of metals and alloys including: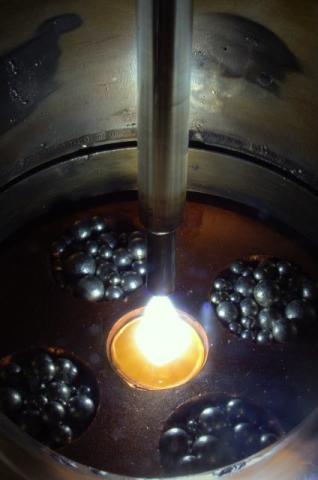 Distillation and electrotransport purification
Non-consumable and consumable arc casting 
Several configurations of induction and resistance furnaces with controlled atmosphere capabilities including chill casting
Special alloy ingots preparations from several grams to 25 kg can be prepared under controlled conditions to maintain purity and compositional control.
Fabrication equipment includes:
          100-ton 12" rolling mill (rod and flat rolling)
          6" rolling mill
          5 rotary die swaging machines (1" - 0.014")
          12.5-ton 10' and 1.2-ton 8' hydraulic wire drawing benches
Rare Earth Metals & Alloys
Quantities of high-purity rare earth metals and alloys in single and polycrystalline forms are available to scientists outside of Ames Laboratory. Complete chemical analyses, obtained by mass spectrometry, inert gas fusion and combustion analysis, accompany the materials. Special preparations of high-purity alloys and compounds are also available in small quantities. Various processes employed by the MPC include:
vacuum casting

sublimation

distillation

electro-transport processing
In most cases, the rare earth oxides are first converted to their respective fluorides and are then reduced metallothermically on a kilogram scale, using pure calcium metal specially sublimed for this purpose. This preparation technique is called the Ames Process and the resulting metals are very pure. Nonetheless, many are further refined at the MPC by various processes.
Single Crystal Services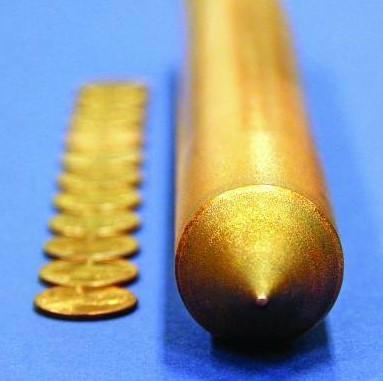 We are a leader in the preparation of high-quality single crystals of rare earth and refractory metals and their alloys. High-purity single crystals of rare earth, transition, and refractory metals and alloys are available on a custom, best-effort basis.
Some crystals can be refined to extreme purity by several metal-purification procedures, such as electro-transport and selective de-oxidation. This processing makes available for scientific research metal crystals that are among the purest in the world.
Arc-zone melting
Cyclic-temperature technique
Recrystallization grain growth
Bridgman method
Tri-arc/Czochralski method
MPC crystal fabrication and characterization facilities include back-reflection Laue X-ray, spark planing/cutting by electro-discharge machining, diamond saws and lapping fixtures for precise orientation of crystals. MPC may prepare crystals that are not commercially available. There are commercial sources for pure element crystals and substrates, as well as common alloys. Below is a list of known providers that should be evaluated before requesting a quote. This list does not imply endorsement by the MPC or Ames Laboratory, and is not intended as a commentary on the quality of their services or those of any unlisted provider.