Ames National Laboratory is one of the U.S. Department of Energy's 17 National Laboratories, but is the only one physically located on the campus of a major public research university. Because of its location on the Iowa State University campus, Ames National Laboratory enjoys an open-door policy. By entering any Ames National Laboratory facility, visitors agree to abide by our policies and procedures to ensure the safety of everyone visiting or working at the Laboratory.
Ames National Lab Welcome Brochure
How to Get Here
Ames National Laboratory and Iowa State University are located in Ames, Iowa, about 35 miles north of Des Moines at the junction of I-35 and U.S. Highway 30. Driving directions from the airport to Ames Lab can be found HERE.
Parking
Visitors must obtain a parking permit from the Guard Station in G34 TASF and display the permit on the dash of their vehicle. With a valid parking permit, visitors may park in either of the two lots designated for Ames Laboratory: Lot 26 near TASF and Lot 28A next to Metals Development (shaded in purple on the map below).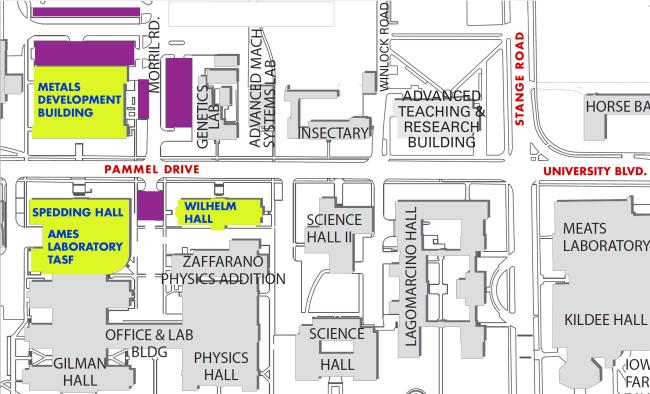 Tours 
The Office of Education and Outreach provides tours of the Ames National Laboratory for a variety of groups, including college students; teachers; and professionals representing diverse occupations and interests. Care is taken to match tours to the expressed interests of the visiting group.
Our hope is to help the public become more aware of the Ames National Laboratory, create stronger Lab/community relations and encourage interest in science and math. In planning tours, our top consideration is the safety of our guests during their time at the Lab.
To arrange a tour, contact:
    Ames Laboratory Education and Outreach
    Kelly Bergman, 515-294-5643