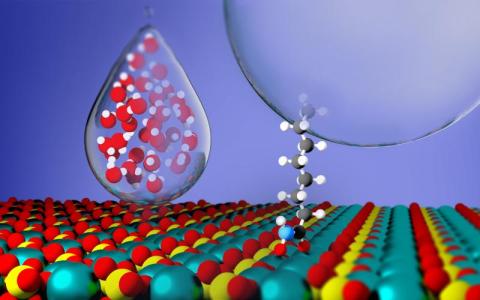 Critical Materials Institute researchers at Oak Ridge National Laboratory and Arizona State University studied the mineral monazite, an important source of rare-earth elements, to enhance methods of recovering critical materials for energy, defense and manufacturing applications.
Rare-earth elements occur together naturally in mineral ores such as monazite but are economically challenging to recover. New approaches to separate the valuable ore from unwanted materials are needed.
The research team combined theory and experiment to gain atom-level insights on monazite, providing a first look at surface features important to the design of flotation collector molecules – materials that work like life jackets to buoy up monazite particles on air bubbles from mixed mineral slurries.
"Our efforts address materials needed for froth flotation techniques used to separate high-grade ore from low-value materials during processing. Fundamental research can help us tailor future collectors to make monazite recovery more efficient and cost-effective," said ORNL's Vyacheslav Bryantsev.